"In the Voice of Our Mothers" is a project of Miriam's Well.
We offer powerful, inter-faith based women's stories that promote personal and collective explorations through heart, mind, body and soul towards honoring and respecting each other's and our own connection to creation.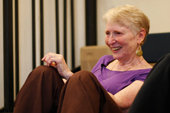 From Carol Fox Prescott:
In the years between 1992 and 1995 (in order to facilitate and clarify a much longed for re-entry into Judaism, the religion of my childhood) I was moved to write stories about five women in the Bible; Sarah, Rebecca, Rachel, Leah and Miriam. Following the traditional narrative, I imagined myself in their lives and relationships, human and divine. What came through was an intensely personal take on some of the most basic legends in Western Civilization.
As an adult and as a woman, I needed to "know" these mother figures. I needed to "hear" their voices. Otherwise, I feared, I would not be able to find a path that made any emotional sense to me. Once written, I shared the stories with whomever I could find to sit down and listen. By a lucky set of circumstances, the Leah story was actually published in Tikkun Magazine. Then, for years they sat dormant in my file cabinet. Not even on my computer! But they somehow did the trick. It seems that "knowing" my ancestors opened doors for me into the rich and joyous traditions contained in making a Jewish life.
Then in the fall of 2009, with the support and guidance of Susan Rosen of Miriam's Well, a retreat center in Saugerties, NY and Rabbi Jonathan Kligler of The Woodstock Jewish Congregation in Woodstock, New York, I had occasion to take them out of mothballs, dust them off and begin to give them a new life. I invited five fabulous New York City actresses, women who had been my acting students through the years, to enter into the process of embodying the roles and transforming the stories into live theatrical event.
Now, after many performances in synagogues and churches, the results constantly surprise and delight us. Our audiences, men and women, Christians, Agnostics and Jews, reacting with deep appreciation of the intimate nature of the telling, stay on after each performance to talk about their own personal responses. Some are surprised by the active roles women play in the narratives. Others speak of how relevant and contemporary the characters and relationships seem to them. Many are astonished that "mere bible stories" could have so much resonance in their lives.
After our first performance, a circle of women in the Woodstock area formed around the project to bring this work out into the world. The Rev'd Susan Auchincloss, Perri Ardman, Julia Boylan, Stacy Brooks, Sherry Kahn, Susan Rosen and Barbara Sarah joined together to provide support and love. We call ourselves VOOM, both in reference to our title, "In The Voice of Our Mothers," and in the way we have come to think of ourselves, VA VA VOOM!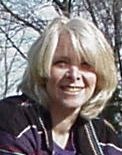 From Susan Rosen, Spiritual Director, Miriam's Well Organization, Inc.:
I was introduced to "In the Voice of our Mothers" on an airplane. Carol Fox Prescott (the writer/director) and I were flying to Kansas City to attend a gala for Kansas City Rep Company (my son is artistic director). We were not sitting together on the plane. A little after take off Carol came over to me and handed me some sheets of paper. She asked me if I would read some stories she'd written in the '90's about the matriarchs of the Bible, Sarah, Rebecca, Rachel, Leah and Miriam. I was intrigued especially because the organization I founded and had run for the past 11 years was called "Miriam's Well." I had curiosity about all these women. I learned a little about them in Hebrew School, but always wondered who they really might have been.
As I read I was captivated. Each story brought each woman to life. All of a sudden they weren't just ancient women who happened to be briefly mentioned in the Bible but were real, alive human beings whose stories were relevant today. As I read, each woman became incarnated in my imagination, and I felt as if I knew each one personally. I related to each situation, each dilemma, each emotion written on the page. These matriarchs were me. I recognized them as my Mothers, my Sisters, my Friends. I wanted to experience more.
When I was finished reading I walked back to Carol's seat with tears in my eyes. I thanked her for giving me the honor and privilege of reading these stories. Next my vivid imagination took over, and I told her we must see them performed. People needed to be able to explore these stories for themselves, and like Shakespeare, they should be seen. I wanted to give people the opportunity to engage with these women, to talk about them to each other, to explore how these are archetypal stories of all women. It is not about religion. For me it is about recognizing myself in these women. As these wonderful actresses perform, a metaphoric mirror reflects back to us who we are, how we view the world, and why we are here. These reflections are beautiful threads woven in a tapestry of life  unfolding and bringing us into relationship with our own experiences. We are present in their journey. We are not lost in concept. We relate to these women as they fulfill the mystery we live every day. That is why Sarah, Rebecca, Rachel, Leah and Miriam have survived all these centuries. They are us and we are them. Good theater offers this mystifying exchange.